Commercial and Multifamily People in the News Feb. 23, 2023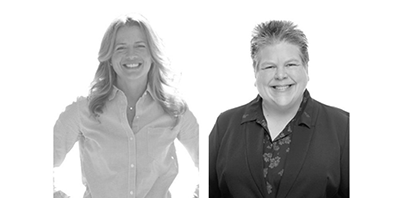 (Katelyn Drosnock (l.) and Pauline Hale)
Hale, Drosnock Join JLL Valuation Advisory
JLL's Valuation Advisory group expanded its industrial property sector team with Pauline Hale and Katelyn Drosnock.
Hale joined the group as Executive Vice President based in southern California and will be the firm's industrial market lead for California. Katelyn Drosnock joined as an Executive Vice President in the Mid-Atlantic region. Both will report into Managing Director Katie Parsons, who leads the national industrial practice for JLL's Valuation Advisory group.
Hale joined JLL from Altus Group, a software company providing solutions to the commercial real estate industry, where she worked as a Director for more than 10 years. During her 18-year tenure at Altus Group and its predecessor firm, PwC, she was primarily responsible for client management, talent recruiting and leading engagement teams that provided valuation services to large institutional investors across most property types and geographies.
Actively engaged in commercial real estate since 2005, Drosnock joined JLL from Bowery Valuation, a tech-focused commercial real estate appraisal startup, where she was Managing Director, growing the company's footprint in the Mid-Atlantic. Prior to Bowery, she was with the Philadelphia-based office of a top commercial real estate advisory and services firm, working within its Valuation & Advisory group and its National Industrial/Logistics team, where she was consistently a top producer.
BWE Appoints Mike Guterman Senior Vice President in Los Angeles
Bellwether Enterprise Real Estate Capital LLC, Cleveland, hired Mike Guterman as a Senior Vice President in its Los Angeles office. Guterman brings more than two decades of experience in real estate capital finance to BWE.

Prior to joining BWE, Guterman spent 17 years at Highland Realty Capital, a commercial real estate capital financing firm, where he served as a co-founder and Chief Financial Officer. Before founding Highland Realty Capital, Guterman began his career at Kennedy Wilson brokering investment sales/residential auctions before becoming a partner and Senior Vice President at Buchanan Street Partners. Guterman specializes in advising on, structuring and placing debt and equity capital, and has completed over $4 billion in financing in his career.
David Vinson Promoted to Managing Director in Northmarq's Charlotte/Raleigh office

Northmarq promoted David Vinson to Managing Director of its Charlotte/Raleigh debt and equity offices. He will oversee the daily operations of the offices while continuing to serve Northmarq's clients as an active deal team member arranging debt and equity financing.
Vinson joined Northmarq in 2013. He brings more than 15 years of capital markets experience, during which he has completed more than $1.5 billion in transaction volume. Prior to joining Northmarq's Raleigh office, he spent seven years in Charlotte working for Berkeley Capital Advisors and Wachovia/Wells Fargo.