Multifamily Completions Jump; Rents Stall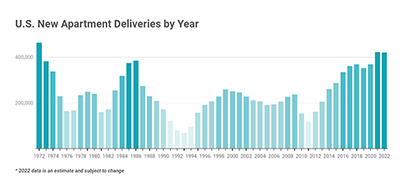 Yardi Matrix, Santa Barbara, Calif., said multifamily construction reached a 50-year high, with 420,000 new apartments expected to deliver nationwide this year.
"Apartment completions last surpassed the 400,000-unit mark in 1972," Yardi said in a RentCafe report, The Best of Times for Apartment Construction in Half a Century.
"New apartment construction in the U.S. is flexing its muscle once again in 2022, despite pressing economic concerns and supply chain disruptions in the aftermath of the pandemic," the report said. "This construction boom is driven by pent-up demand for apartments nationwide, especially as some renters postpone their dream to become homeowners amid soaring inflation and rising interest rates."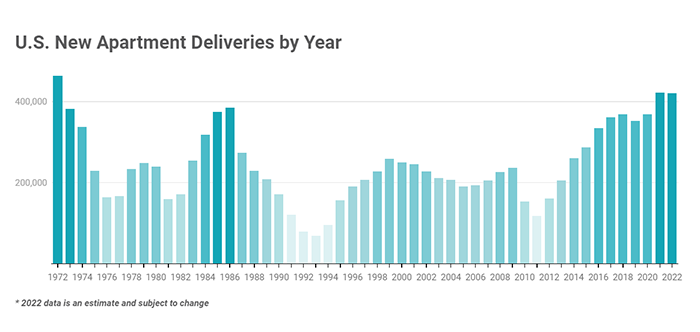 Apartment construction activity increased significantly in both 2021 and 2022, "exceeding even the most optimistic projections for the post-pandemic multifamily landscape," RentCafe said.
But Doug Ressler, Manager of Business Intelligence with Yardi Matrix, noted apartment construction activity is still being hampered by three familiar challenges: labor shortages, material costs and supply chain issues.
In a separate report, Yardi diagnosed a more immediate problem for the sector: stalled rent growth. In August, average asking rents decreased for the first time this year as they dropped by $1 to $1,718. Overall, year-over-year growth decelerated by 170 basis points to 10.9 percent.
The latest Yardi Multifamily Report attributed the slowdown in part to higher interest rates.
"Rent growth tends to slow in the fall, but this year comes at the tail end of the unprecedented increases," Yardi said. "The deceleration in August was strongest in many of the markets that have had the most growth over the past two years, a sign that affordability is becoming an issue. It's possible that deceleration could continue for the remainder of the year."
The cooling single-family housing market represents a demand driver for the multifamily sector, but inflation and a slowing job market are combining to erode renters' ability to pay, Yardi said. Rent declines were concentrated in high-end "lifestyle" properties; these properties saw negative rent growth in 21 of the top 30 metros.
The single-family rental sector largely mirrors the activity seen in multifamily, Yardi said. The average single-family asking rent decreased by $2 during August to $2,090 and year-over-year rent growth dropped 170 basis points to 9.5 percent.