Push to Modernize Spurs Industrial Construction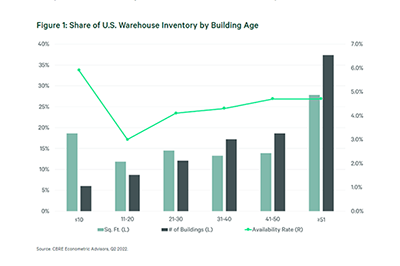 The advanced age of U.S. warehouses–43 years on average–is spurring record construction as big e-commerce and retail distributors demand larger, more modern facilities, reported CBRE, Dallas.
In a report, Aging Warehouse Inventory Justifies Record Development, CBRE reported warehouse construction activity totaled a record 627 million square feet by the end of the second quarter.
CBRE said one-fourth of existing warehouse space is more than 50 years old; most of that product tends to have a smaller footprint and lack features, design and amenities required by modern distributors. Newer warehouses tend to measure larger than 200,000 square feet–and can exceed one million square feet–and feature high ceiling heights, air conditioning, huge floorplans and cross-dock layouts to allow for fast unloading and reloading.
Robust construction over the past decade has expanded overall U.S. warehouse square footage by 18.6 percent, mostly from the need for larger facilities, the report said.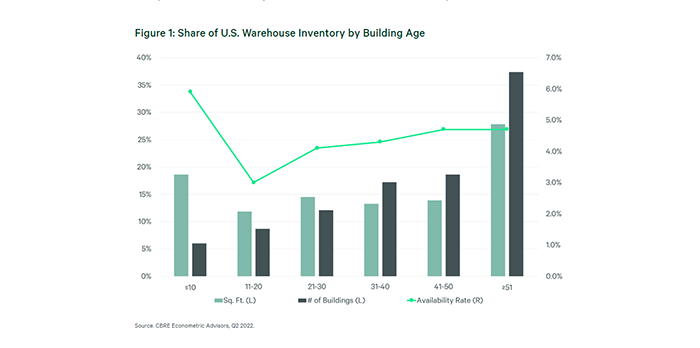 "The warehouse sector has undergone more modernization other than many other asset classes in commercial real estate over the past 10 to 20 years," said John Morris, CBRE Americas President of Industrial & Logistics. "The market can support more of these bigger, better buildings as well as most of the older facilities."
Morris noted industrial buildings that have grown "truly obsolete" will likely be redeveloped into other uses.
"That's not to say that older buildings aren't in demand," CBRE said, noting occupancy at warehouses older than 40 years exceeds 95 percent on average. "[But] any of those older facilities are in urban, infill locations that are ideal for distribution to large, densely packed populations. Markets with the youngest average warehouse age tend to be those with relatively available, affordable land and within an ideal distribution radius of large population centers."
The industrial sector faces some problems beyond aging stock. Bloomberg and CNBC recently reported that Amazon has closed some warehouses or cancelled plans to open new facilities after it aggressively added space to meet surging e-commerce demand in recent years. Data firm MWPVL, Côte Saint-Luc, Quebec, said Amazon will close nearly 25 million square feet of warehouse space and will delay opening 21 locations totaling nearly 28 million square feet.