CMBS Loan Delinquency Rate Drops Below 2%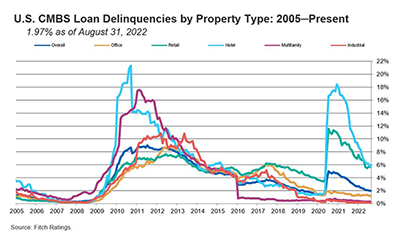 Fitch Ratings, New York, said the commercial mortgage-backed securities delinquency rate fell eight basis points in August to 1.97% due to continued strong resolutions and fewer new delinquencies.
CMBS resolutions totaled $1.1 billion in August, up from $685 million in July, led by retail and hotel loans, Fitch reported. New 60-plus day delinquencies fell to $657 million from $683 million in July.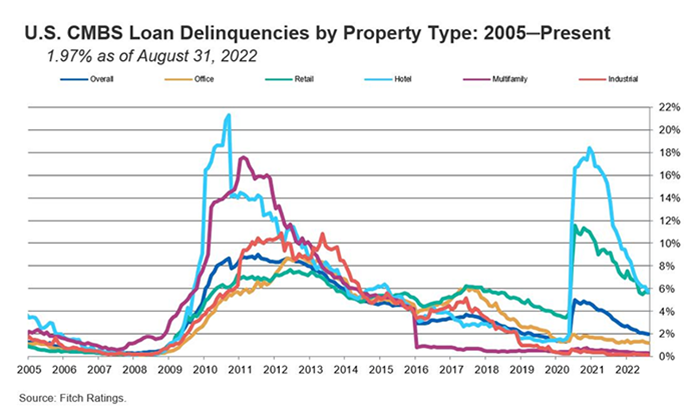 "[New delinquencies] were primarily loans secured by retail and mixed-use properties," Fitch said in its August CMBS Loan Delinquency Report. "Multifamily and industrial reported slightly higher delinquency rates, while all other property types reported lower rates."
Fitch said August's 30-day delinquency volume declined to $423 million from $507 million in July. The hotel delinquency rate fell to 5.70%, the retail sector dipped to 5.67%, the office sector fell to 1.19% (1.24%), multifamily increased to 0.33% and industrial ticked upward to 0.15%.
Fitch said 3.1% of the CMBS loans it studies ($17 billion; 666 loans) were in special servicing in August, down from 3.2% ($17.4 billion; 674 loans) in July. Nearly 38% by balance ($6.4 billion; 197 loans) are performing, specially serviced loans.
In a separate report, Moody's Investors Service, New York, said rising interest rates will likely slow CMBS loan refinancings.
"Rising interest rates this year are narrowing refinancing options for maturing CRE loans," Moody's said in Rising Rates Sill Slow Conduit Loan Refinancings. It noted only 73.5% of existing loans refinanced as their maturity approached, an 11.2 percentage point decrease from the prior quarter and the largest drop since the pandemic's onset.
"[But] lenders are refinancing loans for properties with strong recovery trajectories," Moody's said. In the second quarter, loans that refinanced had an average Debt Service Coverage Ratio greater than 1.6X for most property types, with the hotel market's average DSCR just over 1X. At least one loan with an "underperforming" DSCR below 1X refinanced in every major property type during the quarter, indicating that refinancing conditions have remained strong, the report noted.