CBRE: Record Low Data Center Vacancies Despite Increased Supply in H1 2022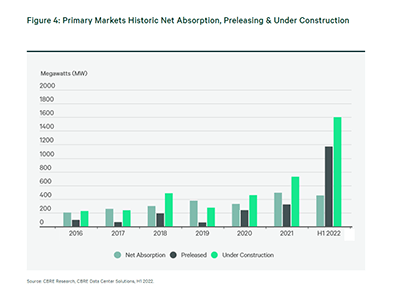 The North American data center market added significant new supply this year, but overall vacancy declined to a record low, reported CBRE, Dallas.
The CBRE North American Data Center Trends Report said increased demand from large cloud service providers, social media companies and enterprise users fueled the sector in first-half 2022. More than 352 megawatts of new supply went online in the seven primary U.S. data center markets, a 20 percent increase year-over-year.
Despite the new capacity, data center vacancy decreased to an average of 3.8 percent across the seven primary markets in the first half–down from 10.3 percent a year before–as large cloud users raced to secure space to accommodate anticipated future growth. Significant preleasing of space under construction in prior years also contributed to the large drop in vacancy, the report said.
For the first time since 2017, tight market conditions increased average asking rents in both primary markets (5.9 percent to $127.50 per kW) and secondary markets (2.3 percent to $133.00 per kW), CBRE said. It expects primary-market vacancy will remain tight for the near future, as 73 percent (1,170 MW) of the 1,601.5 MW of the under-construction supply was preleased as of June 30.
"Supply chain disruptions and a lack of available power and land in some major markets could delay new construction deliveries over the balance of the year and beyond," said Pat Lynch, Executive Managing Director and Global Head of Advisory & Transaction Services for Data Center Solutions with CBRE. "As a result, we expect continued rising rents nationally, and more occupiers turning to secondary and tertiary markets to meet their needs."
Lynch noted smaller markets will also continue to benefit from an increase in edge data center deployments, driven by broader adoption of AI, 5G and blockchain technologies.
CBRE said northern Virginia remains the most active data center market with net absorption exceeding 269 MW–up 281 percent from H1 2021–more than quadruple that of the next highest market, Silicon Valley in California. Silicon Valley ranked sixth among primary data center markets for net absorption last year but jumped to the second spot with 56.2 MW of activity in first-half 2022.
Net absorption totaled 453.4 MW across the seven primary markets in the first half of 2022, nearly triple that of the first half of 2021, the report said. Phoenix ranked third in net absorption, followed by Hillsboro, Ore.