Industrial Transactions Surge
The first quarter is traditionally relatively quiet for commercial real estate transactions, but the industrial sector missed that memo this year.
Real estate data platform CommercialEdge, Santa Barbara, Calif., said at least $3.6 billion in industrial transactions closed in January alone as more than 400 properties changed hands.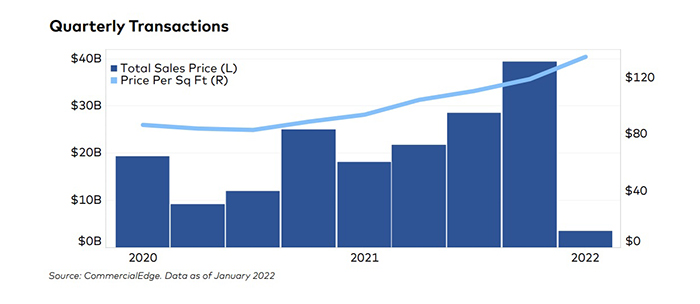 "The average sale price of industrial buildings has increased for five consecutive quarters, and 2022 looks to continue that trend," CommercialEdge said in its February National Industrial Report. The average sales price of an industrial property increased to $135 per foot in January from $119 per foot in the fourth quarter.
Colliers, Toronto, reported the U.S. industrial sector set several records in 2021.
Colliers Director of National Industrial Research Amanda Ortiz said industrial real estate continued its unprecedented growth throughout the year following a record-setting year in 2020. "Despite obstacles presented from all links of the supply chain–port congestion, labor shortage, transportation costs and historically low warehouse vacancy rates–the industrial sector flourished with many occupiers spending top-dollar for much-needed high quality space," Ortiz said.
The sector posted encouraging fundamentals at year-end, Ortiz noted. Overall net absorption and occupancy gains more than doubled the previous records recorded in 2016, she said.
CommercialEdge reported the national average rent for industrial space hit $6.46 per square foot in January as vacancies dipped to a 5.5 percent average across large U.S. markets.
The industrial supply pipeline grew in January, with 587.8 million square feet of new stock under construction by month-end, CommercialEdge said. Projects already underway accounted for 3.5 percent of stock in the 30 largest markets. The pipeline represented 7 percent of the total industrial space across the top 30 markets when projects in the planning stage are included, pointing to a continued supply boom in the coming months.