Life Sciences Job Growth Spreads To Smaller Markets
CBRE, Dallas, said the fast-growing life sciences real estate sector now extends beyond coastal research hubs for which it is mostly known.
"There is a conventional view of life sciences that emphasizes large lab markets such as Boston, the Bay Area and San Diego," said Matt Gardner, CBRE Americas Life Sciences Leader. But he noted the life sciences industry encompasses more than drug development in a laboratory. "Major growth drivers for life sciences–even amid market headwinds–include personalized treatment, advanced materials and future foods," he said.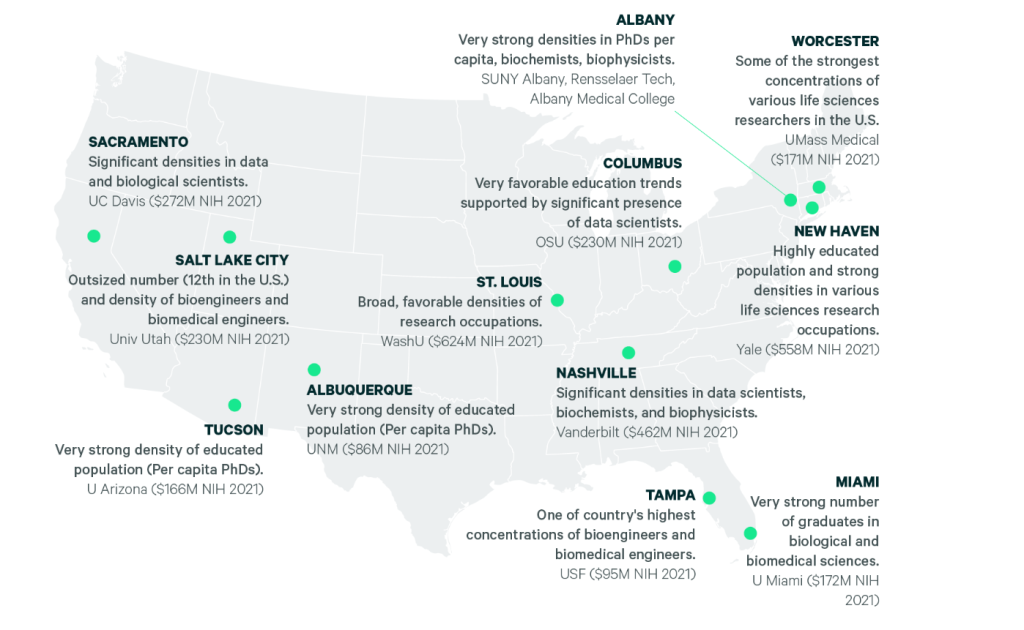 Gardner said job growth in life sciences professions, including bioengineers, biochemists, microbiologists and data scientists, expanded nearly 80 percent since 2001, compared to just 8 percent for the overall U.S. job growth rate. That surge in life sciences jobs boosted emerging hubs including Nashville, Salt Lake City and Houston.
In the report, Life Sciences Research Talent 2022, CBRE ranked the leading markets for U.S. life sciences talent. Boston/Cambridge, Mass. ranked first, followed by Washington, D.C./Baltimore and the Bay area. But Raleigh-Durham, N.C., Philadelphia, , Portland, Ore. and Minneapolis/St. Paul and Pittsburgh made the list.
CBRE said the number of U.S. graduates receiving degrees in biological and biomedical sciences reached nearly 164,000 in 2020, twice as many as 15 years earlier. But despite that influx of talent, the unemployment rate for life, physical and social sciences was less than 1 percent in April.
Another unexpected finding likely is relevant for expanding companies: Life sciences wages don't vary geographically as much as those of many other industries do. But the market-to-market variance of cost of living means some markets are more affordable for life sciences workers than others, CBRE said.
"Quality and availability of labor are key considerations for any expanding industry, and that's certainly the case for life sciences," said Ian Anderson, CBRE's Americas Head of Life Science and Healthcare Research. "Lab vacancy rates are tight in most markets, even amid strong construction activity. Expanding life sciences companies can choose from dozens of U.S. markets depending on their labor and real estate needs."