CBRE: Construction Costs Could Jump 14%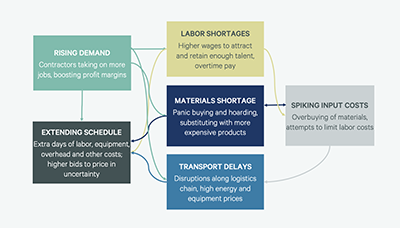 CBRE, Dallas, said it expects U.S. construction costs to jump 14.1 percent year-over-year by year-end due to pressures including labor shortages, inflation, supply chain disruptions, pandemic reverberations and the war in Ukraine.
"The increase likely will be the largest in several years," CBRE said in its latest U.S. Construction Cost Trends report. The firm's projected 2022 increase exceeds last year's 11.5 percent rise and well outpaces the historical average gain of 2 percent to 4 percent per year. "The anticipated 2022 gain is the largest since CBRE began tracking cost projections in 2007."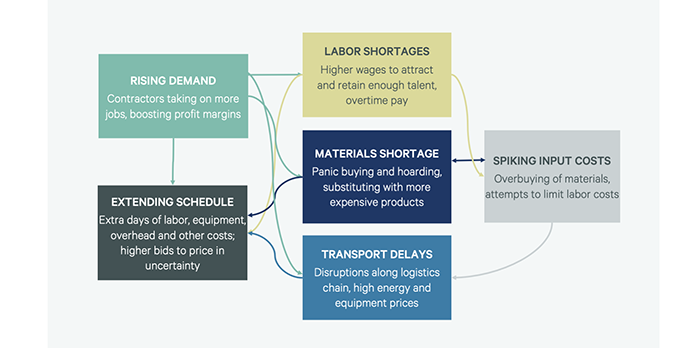 Looking beyond 2022, CBRE noted it foresees cost increases could recede toward their historical range at 4.3 percent next year and 2.9 percent in 2024 as supply chain issues abate, inflation eases and production of materials hampered by the pandemic gets back to full speed.
"The construction industry thrives on predictability, but we continue to grapple this year with numerous challenges and volatility, making estimating and managing costs more difficult," said Nicolas McNamara, Director of Cost Consultancy with CBRE. "Labor shortages and wage pressure combined with supply chain disruption have contributed to a sharp increase in costs."
But McNamara noted demand for new projects remains strong. He said understanding the levers moving construction costs is the key to navigating this challenging environment.
CBRE based its construction-cost forecast on three primary factors: labor costs, materials costs and contractor margins. The last item often rises significantly when contractors' work backlogs increase.
Pressures driving costs up come from both the demand side and the supply side this year, CBRE said. Demand is robust for construction of residential housing (both rental and for-sale), infrastructure projects, warehouses and other logistics facilities. Meanwhile, material costs have escalated due in part to curtailed production amid the pandemic and global shipping costs have increased due to related supply chain bottlenecks. The war in Ukraine hampered shipping operations and supplies of various materials.
A tight labor market also has driven up overall costs, CBRE said. The construction industry has yet to return to its pre-pandemic level and fewer young workers have returned to the industry.
Certain cost pressures will likely persist in the short-term, even with overall cost increases expected to recede in the coming years, the report said. Among the lingering complications CBRE cited: material shortages, longer-than-usual lead times for material delivery, shortages of components like semiconductors and labor scarcity.