Bright Spots Amid Offices Sectors Struggles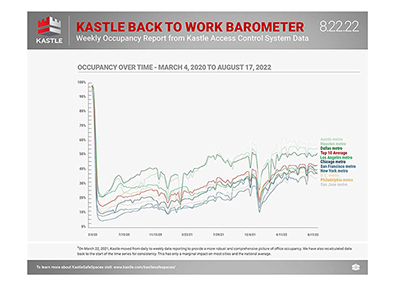 Office absorption remains negative even though office-using employment increased by 1.9% in the first half of the year, adding 635,000 jobs, reported Cushman & Wakefield, Chicago.
The latest C&W Office MarketBeat report found -7.8 million square feet of net absorption across the U.S. in the second quarter, making eight quarters out of the past nine that have been negative nationwide. Net absorption was negative for nine out of 10 and eight out of nine quarters, respectively, after the Dot-Com Recession and the Great Recession, the report said.
"Despite this, there have been bright spots across the country," Cushman said, noting more than one-third of the office markets it tracks were positive in the second quarter. Over the past few quarters, a few U.S. markets saw significant net absorption, led by life sciences markets such as San Jose, San Diego, Boston and northern New Jersey and large Sunbelt markets with strong job growth such as Dallas, Atlanta, Austin and Miami.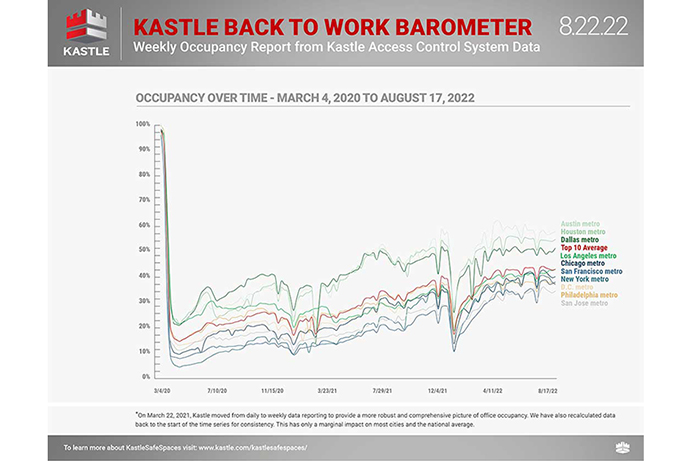 "Ultimately, demand for office space links back to the economy; continued economic growth means more jobs, meaning more demand for all types of useful space, including office," Cushman said. "Economic projections have dampened as the year has progressed, but the economy is still expected to grow this year."
In its Office Survey Insights Report, Colliers International, Toronto, said 43% of office-using firms have not yet set a return-to-office date, and more than three-quarters have shifted to a hybrid format compared to 20% hybrid pre-pandemic.
Nearly half of the firms Colliers interviewed said they anticipate making "significant changes" to their office space designs due to less space needs, and 40% said they will seek shorter leases than before the pandemic.
The Wall Street Journal recently reported major pension funds have started cutting back investments in office buildings because they think prices will fall as hybrid work weeks take over.
Office security firm Kastle Systems, Falls Church, Va., said its measure of office occupancy rose three tenths of a point as of August 22 to 43.5% in the 10 largest U.S. cities. Occupancy has hovered around 43% since April. "All cities tracked, except New York, Philadelphia and Washington, D.C., saw minor increases in occupancy last week, the report said. "Only Dallas experienced a significant jump. This difference is most likely because the Northeast Corridor cities have not returned to school yet while the other cities' schools have resumed."