Trepp: Commercial Executives Expect Sector to Avoid Severe Damage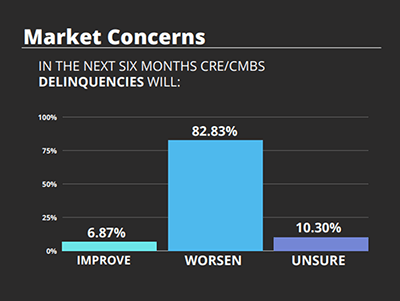 Commercial real estate executives are expressing concern about upcoming economic headwinds but believe CRE will avoid the most severe damage, reported Trepp LLC, New York.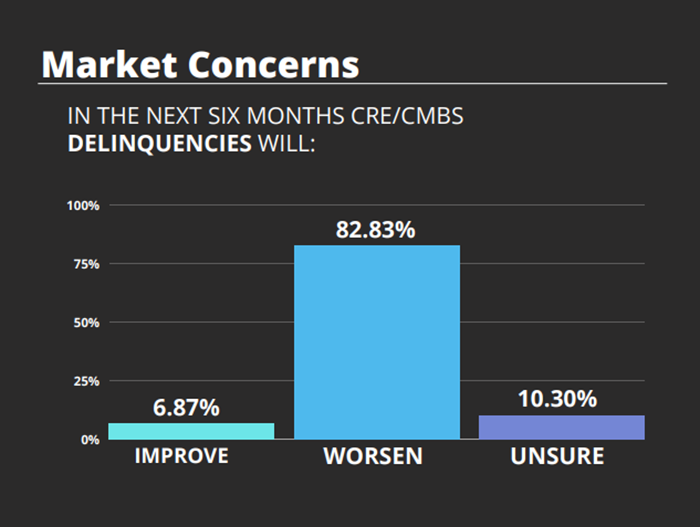 Trepp polled the executives for their perspectives on the near-term future of the commercial real estate and commercial mortgage-backed securities markets. "The results seem to suggest businesses are confident they will weather the impending storm despite current economic conditions," said Manus Clancy, Senior Managing Director at Trepp.
Clancy noted the survey found real concern that economic conditions will weigh on business in the next six to 12 months, "but generally, a recession is not likely until the end of 2022 or 2023," he said.
When asked about current market conditions, most respondents indicated headwinds now outpace tailwinds. "More than half said that economic conditions and higher interest rates would impact their businesses negatively," Clancy said. By a more than 10:1 ratio, respondents predicted commercial real estate and CMBS delinquencies would rise over the next six months, which would reverse the declining delinquency rate trend seen in 23 of the past 25 months. "Not surprisingly, inflation, higher interest rates and supply chain constraints were the biggest macro concerns in the survey," Clancy said.
But Trepp also found optimism the economy can avoid the most severe outcomes. Nearly two-thirds of people surveyed said the S&P 500 will not fall below 3200 and half said the 10-year Treasury will not rise above 4.5%. About one-quarter said they believe oil will top $150 a barrel. Interestingly, by a 3:2 margin respondents said the Fed will not pause rate hikes before year-end 2022.
Regarding respondents' individual businesses, just under three-quarters reported their firms are either unchanged or growing compared to 2021. Nearly 90% said they are either keeping current headcount or hiring as needed. "Despite all this, over half of respondents believe that general economic conditions will have a negative impact on their business by the end of 2022," Clancy noted.
On a positive note for the office sector, just under 70% of participants said they are now in the office at least three days per week, Trepp reported. Participants expresses more optimism about leasing activity than sales activity, Clancy said. While more than half of those surveyed said they feel commercial real estate fundamentals will be somewhat worse over the next six months, only 6% said conditions will likely grow significantly worse. About three-quarters forecast net effective rents will decline. "Along those lines, office was the clear choice for property type which would see the biggest uptick in distress," Clancy said.