Apartment Demand, Rent Growth Reach New Highs
The apartment market reached record highs for demand, occupancy and rent growth in the first quarter–toppling previous multi-decade peaks set last year, reported RealPage, Richardson, Texas.
"Huge appetite for housing continues to power unprecedented market conditions," said RealPage Vice President and Head of Economics and Industry Principals Jay Parsons, noting net demand for market-rate apartments totaled exceeded 712,000 units nationally in the 12 months that ended March 31. That was 8 percent more than the previous high set one quarter earlier and 76 percent higher than the pre-COVID-era peak set in 2000.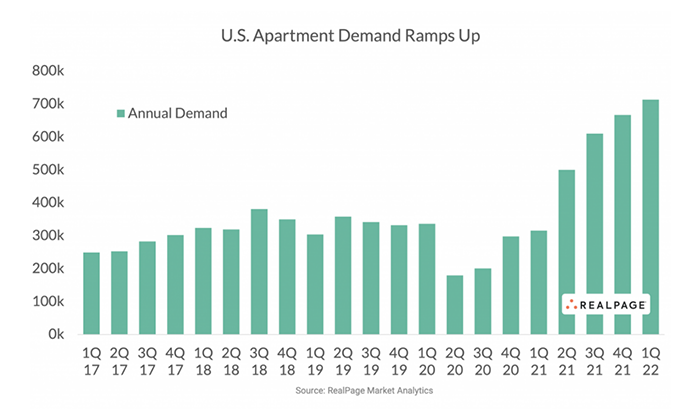 The national appetite for housing helped apartment occupancy buck the normal trend of seasonal cooling in the first quarter, as occupancy ticked up 0.1 percentage point to 97.6 percent, RealPage reported. In turn, rent growth set a record as new lease effective asking rents increased 15.2 percent year-over-year through March.
"Young adults benefiting from a tight labor market and unprecedented wage growth are flooding the apartment market," Parsons said. "Normally, you'd expect rent growth of this magnitude to stifle demand, but instead the opposite is occurring. There's a severe shortage of rental housing at all price points and in essentially every city across the country."
The RealPage report said apartment developers remain well ahead of single-family builders in adding supply but noted the brief construction pause from 2020 plus supply chain and labor challenges have slowed down apartment deliveries somewhat. Nearly 350,000 market-rate apartment units delivered over the 12 months ending in March, on par with the norms since 2020.
"However, the pace will soon accelerate," Parsons noted. "Apartment construction post-COVID has surged to the highest levels since the 1970s."
Most of the new supply targets the top end of the market, Parsons said. "While that's definitely needed, there's an even greater needed for lower-income affordable housing–but that can only happen with substantially more public funding," he said. "Cities and states concerned about housing affordability must get serious about adequately supporting affordable housing development."