Office Demand Increases, But Full Return Remains Far Off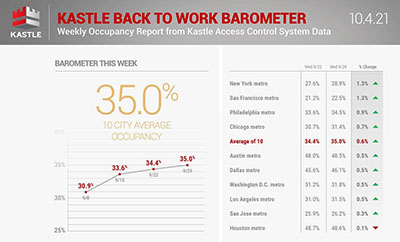 New demand for office space rose in August, indicating the Delta variant did little to damp employers' searches.
"Fears that a combination of seasonality and a rise in the COVID-19 Delta variant would cool new demand for office space were calmed in August," VTS, New York, said in its Office Demand Index report. The index rose to a 15-month high of 87 in August, "signaling that demand for office space is moving ahead despite exponential increases in COVID-19 cases that once drove down demand," the report said. "The [Office Demand Index] now sits at its highest level since March 2020."
Office monitoring firm Kastle Systems, Falls Church, Va., agreed. Kastle tracks the number of users entering offices in the 10 largest U.S. cities compared to a pre-COVID baseline. The firm's Back to Work Barometer report rose six tenths of a point last week to 35.0 percent occupancy. Nearly every city on the barometer rose modestly, with only Houston falling a nominal one-tenth of one percent, though it remains the most open city at 48.6 percent occupancy. New York and San Francisco each increased more than 1 percentage point, rising to 28.9 percent and 22.5 percent respectively, the report said.
VTS said employment in office-using sectors rebounded in July, with a 4.3 percent monthly annualized growth rate compared to just 0.8 percent in June. Chicago and Seattle rose above their pre-pandemic averages, while Los Angeles and New York City are approaching theirs, the report said. "New York City is seeing an uptick in the share of demand for Trophy and Class A properties from last month," VTS said.
But a 100 percent return to the office "looks more distant" as COVID continues to disrupt the market, according to Wells Fargo Economics, Charlotte, N.C. In a new commentary, A Full Return to the Office Looks More Distant, Wells Fargo said the highly transmissible Delta variant has pushed back the long-awaited return-to-office date for many businesses. "Despite the long road ahead, we believe the RTO will eventually take place and operating fundamentals in the office market will right-size," the report said.
Wells Fargo said employers seem eager to end their long-distance relationship with employees, citing a new study of remote Microsoft employees that revealed employees became more "static and siloed" when working remotely.
"We maintain that working remotely is less conducive to collaboration, creativity, mentorship, culture-building and innovation, which are all key to developing the products and processes that ultimately drive a firm's success," Wells Fargo said.