A Record Year for Adaptive Reuse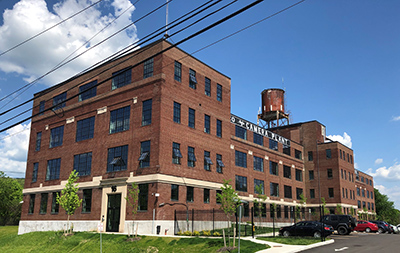 (Former ANSCO camera factory converted to apartments in Binghamton, N.Y.)
More than 20,000 units in older office and other commercial buildings will be converted to apartments this year, reported RentCafe, Santa Barbara, Calif.
"That's almost double the number of apartments converted in 2020 and 2019 combined," said Alexandra Ciuntu, Researcher with RentCafe.
Property owners have created nearly 32,000 apartments in the past two years by converting office, hotel, industrial and other properties into residential units, Ciuntu said in a new RentCafe report.
RentCafe said former office buildings make up one-quarter of future adaptive reuse projects. It expects more than 52,000 apartment units to come online next year.
"Notably, work-from-home arrangements that came as a result of the pandemic also spurred office transformations nationwide, although these weren't as abundant as hotel redevelopments in the wake of the hospitality industry crisis," Ciuntu said.
Yardi Matrix reported the decade began with nearly 12,000 converted apartments delivered in 2020–double the number of units adapted in 2010. Ciuntu said investors and developers are increasingly interested in conversions rather than new construction as climate awareness grows.
The report cited UNC-Chapel Hill Professor Emil Malizia, who said one of the most compelling reasons to choose adaptive reuse to create apartments versus new apartment construction is the lower environmental impact, especially if demolition is involved. "Adaptive reuse mitigates climate change; demolition and new construction do not," he said.
Malizia noted adapting a structure rather than building a new one from scratch also saves the time required for site acquisition and public reviews. He cited one estimate that renovations could cost 30 to 40 percent less than new construction for the same number of units. "Total development cost per unit should be less as long as the cost of the site and building is not significantly more expensive than the cost of site acquisition for new construction," he said.
Office conversions as opposed to hotel or industrial conversions have taken off in recent years, Ciuntu said. "Until last decade, old hotels were all the rage in adaptive reuse due, in part, to their existing floorplans and utilities that were already fit for residential use. However, consistent urban demand and increased preference for open-plan layouts and out-of-the-box designs revealed the housing potential in non-residential buildings. As a result, this led to underused or abandoned office buildings becoming increasingly popular for conversions in the 2010s, a trend that only skyrocketed at the beginning of the 2020s."