Hotel Sector 'In a Far Different Place'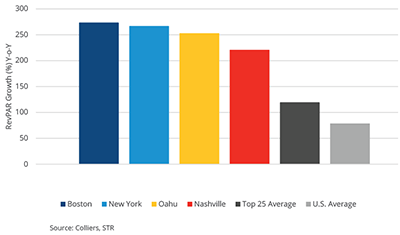 No property type's fundamentals have rebounded as swiftly as the hotel sector's, reported Colliers, Toronto.
"When summer ended, the hotel market was in a far different place than at the same time one year ago," Colliers Research Director Aaron Jodka said in the firm's Hotel Fall Update. "That isn't a shock–fundamentals were highly stressed last summer outside of certain segments of the hotel market."
Jodka noted Transportation Security Administration data show a nearly 140 percent annual increase in total passenger volume between September 19 and 25. And STR, Hendersonville, Tenn., said hotel occupancies rebounded more than 14 percentage points to 63.2 percent across the U.S. from 48.9 percent one year prior. "The combination of improving occupancy rates and increased room rates has boosted overall RevPAR (revenue per available room)," he said. RevPAR is up nearly 80 percent nationwide compared to a year ago.
STR President Amanda Hite noted the post-Labor Day period sometimes concerns the industry, "but the early returns produced a pleasant surprise with group demand above one million for two consecutive weeks," she said. "We did see a performance dip late in September, but ups and downs are expected at this point in the recovery cycle."
STR estimated September demand rose to 93 percent of its 2019 comparable, "and there were noticeable improvements in the major markets and corporate-dependent hotels," Hite said. "With leisure demand continuing to deliver, but business travel and groups progressing much slower, we do not expect recovery to kick into the next gear until next year."
Jodka said occupancy rates at luxury and upper-upscale properties remain below those of other industry segments, although luxury occupancies have more than doubled from year-ago levels. "Upper-upscale hasn't quite met that same threshold but has had the second-strongest occupancy gain of any segment, while its room rates have soared, along with RevPAR," he said.
The 25 largest markets have seen the biggest RevPAR rebound, Colliers reported. RevPAR in those markets is up nearly 120 percent compared to 62.2 percent gain everywhere else. Boston (273.5 percent), New York (266.9 percent), Oahu (252.8 percent) and Nashville (220.7 percent) showed the best annual growth.
"As we have seen with recent sales volume, investors are chasing hotel properties," Jodka said. "Stability in the economy and in the midscale segments remains attractive to private investors. However, the dramatic turnaround in hotel performance in some of the hardest-hit markets is a sign of broader economic recovery. Places like Boston and New York posted positive office net absorption in the third quarter. As business travel increases, so should occupancies and room rates. Ultimately, the recovery in RevPAR still has legs."