Personnel News From Berkadia, Marcus & Millichap Capital Corp.
Berkadia Adds Investment Sales Team in Washington, D.C. Area
Berkadia added a new investment sales team to its Washington, D.C. metro office, bringing on board Senior Managing Directors Walter Coker and Brian Crivella.


Coker and Crivella have executed more than 200 sale and recapitalization transactions representing in excess of $15 billion of value and more than 40,000 units across their careers.
Coker and Crivella joined Berkadia from JLL, where they were co-heads of the mid-Atlantic Investment Advisory & Equity Placement for JLL Capital Markets. They specialize in investment advisory and equity advisory of multi-housing properties and portfolios in the Mid-Atlantic region, with more than 30 years of combined experience.
Laroza Joins Marcus & Millichap Capital Corp. in Salt Lake City
Marcus & Millichap Capital Corp. announced Irwin Laroza has joined the company as a senior director in Salt Lake City.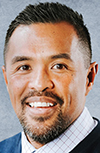 In his new role, Laroza will focus on securing debt and equity financing for commercial real estate owners and developers through life insurance companies, banks, pension funds, conduit lenders, debt funds and other private lending sources, and government-sponsored entities.
Most recently, Laroza was a U.S. Small Business Administration business development officer with Meadows Bank in Las Vegas. He has held positions with a number of high-profile lending institutions over the past 15 years, including Chase Bank, Wells Fargo and Zions Bank.