CRE Price Trends Diverge Across Property Types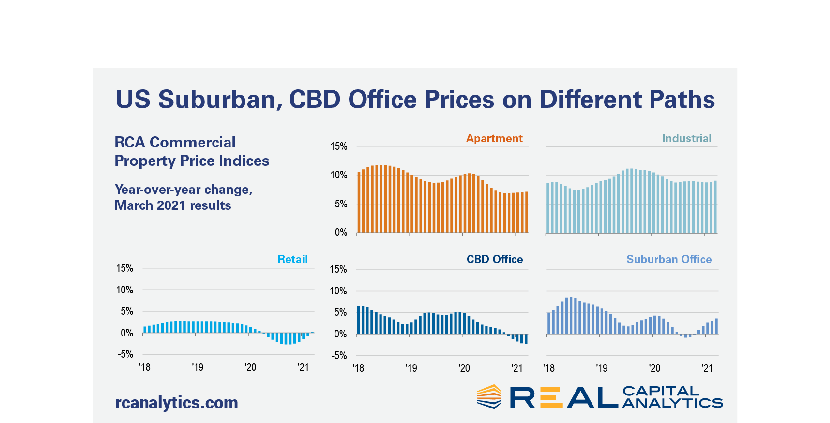 Chart courtesy of Real Capital Analytics

Commercial real estate asset prices diverged by property type during the first quarter.
"The retail, multifamily and industrial indexes, which have all been positive since the end of the second quarter of 2020 or earlier, all posted strong gains over the three-month period," Costar, Washington, D.C., said in its Commercial Repeat Sale Indices report. Meanwhile, the office index declined by 0.7 percent and hotel property priced fell a sharp 4.9 percent in that period.
Divergences were stark across regions as well, CoStar said. The Midwest and South indices both posted 1 percent or larger gains over the first quarter of 2021, while the West declined somewhat and the Northeast declined sharply.
Real Capital Analytics Senior Analyst Wyatt Avery said the headline annual rate of U.S. commercial property price growth posted a stronger gain in March than in February, "aided by industrial, apartment and suburban office price increases," he said.
Drilling down further, Avery said office sector subtypes moved in opposite directions in March. The central business district index declined 2.4 percent year-over-year, while suburban office accelerated to a 3.6 percent annual pace of growth. "The differing paces reflect the recent outperformance in suburban deal activity," he said.
Avery said RCA's industrial index climbed 9.1 percent year-over-year in March, the fastest gain among the property sectors, while apartment prices were not far behind at 7.1 percent. The research firm's U.S. National All-Property Index grew 7.8 percent from a year prior. CoStar reported repeat-sale transaction volume equaled $25.4 billion in the first quarter, a 20 percent decrease from the same period in 2020.
"Investor activity remains below levels seen entering the pandemic, although it has recovered strongly from the lowest levels of activity seen in the second quarter of 2020," the report said. The distressed sale percentage of total transaction volume remained at 1.9 percent, "which is extremely low by historical standards," CoStar said.