It's a Wonderful Life Insurance Company Market July 21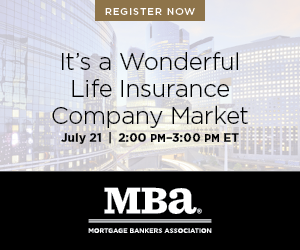 Life insurance companies provide a significant source of capital for commercial real estate. In this webinar CRE executives explore how this part of the industry is evolving as well as responding to the current set of opportunities and challenges in the debt markets.
Wednesday, July 21, 2021, 2:00 – 3:00 PM ET
Click here for more information or to register.
Moderator:
• Mike Tanner, President, Pacific Southwest Realty Services
Speakers:
• John Foley, Senior Vice President, Head of Mortgage and Real Estate, Lincoln Financial
• Greg Michaud, Managing Director and Head of Real Estate Finance, Voya
• Kevin Pivnick, Managing Director, Blackstone
• Joel Trout, Managing Director, KKR
• Jaime Zadra, Managing Director, PGIM Real Estate
The Mortgage Bankers Association is pleased to co-host this event with the California Mortgage Bankers Association and the American Council of Life Insurers. It is sponsored by SS&C Technologies. The event is closed to press.