Shekar Narasimhan, CMB, of Beekman Advisors Discusses the State of Commercial/Multifamily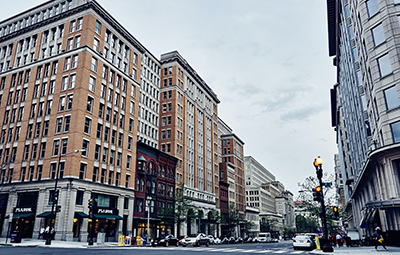 Photo credit: Alexey Topolyanskiy

As the commercial/multifamily industry reemerges from the pandemic, MBA Newslink interviewed former Mortgage Bankers Association Board of Directors member and first Chair of MBA's Commercial/Multifamily Board of Governors, Shekar Narasimhan, CMB.

Narasimhan serves as Managing Partner of Beekman Advisors and his storied career involves leadership roles across industry, non-profit and government spheres with a particular focus on affordable housing.
Beekman Advisors provides strategic advisory services to companies and investors involved in real estate, mortgage finance, affordable housing and related sectors. Narasimhan is a Co-Founder for the Remergent Communities Fund, an Opportunity Zone Fund that focuses on small towns and cities in the southeast U.S. He was appointed to the Board of Commissioners for Virginia Housing by the Governor of Virginia in 2018 and served as its Chair from 2019-2021.
Narasimhan was formerly Managing Director of Prudential Mortgage Capital Co., a provider of commercial mortgage financing. Prior to that, he was Chairman and CEO of the WMF Group, a publicly traded commercial mortgage financial services company acquired by Prudential in 2000. MBA presented him with its Andrew D. Woodward Distinguished Service Award–its highest honor–in 1999, and he received the Fannie Mae Lifetime Achievement Award in 2003 and the Dean H.J. Zoffer Distinguished Service Medal from the University of Pittsburgh in 2010.
MBA NEWSLINK: What part of the cycle are we in for commercial real estate and mortgage lending?
SHEKAR NARASIMHAN, CMB: None of us have lived through a pandemic before, so forecasting the "after" is not only hard, but probably pretty risky. Nevertheless, we absolutely lucked out in pretty much every asset class, except for retail, and even in that, the bounce back is significant. Shelter became obviously the most critical element during the various stages of the pandemic. So it's unsurprising that multifamily rental housing has prospered.
I see the next three years as a period of volatility as we emerge from the pandemic, as while interest rates have remained low, costs have gone up dramatically. This means the rate of rent increases and cap rate compression is not sustainable.
NEWSLINK: What are some of the unique dynamics driving change and growth in the multifamily business heading into 2022?
NARASIMHAN: The pandemic changed attitudes and therefore the traditional arithmetic. The expectation for more room, both in an apartment and in an amenities space, is probably permanent. Where the arithmetic has changed is in turnover rates and the cost of personnel, insurance and taxes. A lot of the cost increases have been absorbed by the unbelievable amount of cheap capital for equity and debt. But that will not last forever. So, new construction cannot be maintained at these levels and valuations cannot keep rising.
NEWSLINK: You've dedicated many years to the affordable housing industry. What are you most excited about in terms of near-term developments? What's most concerning to you?
NARASIMHAN: Let me start with what is most concerning. Wage increases, while real, are now being outpaced by costs. So just when we think we can reach some equilibrium, more people are becoming overburdened by rent. I sometimes use a macabre joke that every high-end multifamily developer should develop an adjacent property for the homeless as that may be the consequence of rent increases on their property over the next ten years. I certainly hope that does not become true.
On the bright side, everyone is paying attention to the affordable housing issue and for once, I think it is more than lip service and seen purely a local matter. The more draconian solutions are kneejerk, but the substantive ones could have legs. Solutions like expanding the housing choice voucher program, increasing low-income housing tax credit production and stimulating more mixed-income, mixed-use housing. Finally, the opportunities for innovation to reduce housing costs using technology and new materials is almost infinite.
NEWSLINK: The economy is experiencing what some have referred to as "the great resignation." How do you envision the impact of this could be felt in commercial real estate finance across platforms and products?
NARASIMHAN: The "great resignation" from a non-economist or non-sociologist perspective is due to people having time to think about what they really want to do or want to become. Perhaps it was the first time we all took a deep breath collectively, ever. It has led to a diminution of the basic bond between employer and employee. (I could say the same for the landlord/tenant relationship.) Therefore, when you combine this with the lack of affordable childcare, it should not come as a surprise that millions of people have chosen to resign leading to one of the lower labor participation rates we have ever seen.
The CRE finance and services business is one where human talent is the premium, but most companies tend to keep their focus on retention of elevator assets. Most now had better refocus on home-based assets by increasing motivation and talent recruitment from Gen-X. I think this has massive implications for CRE finance and may well determine which companies truly succeed.
NEWSLINK: The Federal Housing Finance Agency recently announced new multifamily caps. What's your reaction to the numbers and changes? What are you watching for at the GSEs in terms of administrative reform or further commitments to areas like affordable or green lending in the months to come?
NARASIMHAN: The recently announced 2022 multifamily caps represent an interim step to rationalize a government operated system that should focus on serving middle America both geographically and demographically. This is right and inevitable and leaves the multifamily market at the high end and other CRE asset classes, open to the multiple capital sources that want to and can serve them. The reemergence of CMBS, the exponential growth of debt funds and the consistent engagement of banks and insurance companies ensures this. While the GSEs can continue to be viable to step into capital gaps in case of another black swan event.
We've been through a tumultuous period in world history and while many have suffered, our industry has prospered and remains strong. It is a credit to the leaders of the MBA and the various participants that this is the case, but it is also due to luck. Let's use this time now to re-energize ourselves and build the bench for the post-pandemic future.
(Views expressed in this article do not necessarily reflect policy of the Mortgage Bankers Association, nor do they connote an MBA endorsement of a specific company, product or service. MBA NewsLink welcomes your submissions. Inquiries can be sent to NewsLink Editor Mike Sorohan at msorohan@mba.org or NewsLink Editorial Manager Michael Tucker at mtucker@mba.org.)