Dealmaker: Pacific Western Bank, Square Mile Capital Provide $182M for New York Multifamily
Pacific Western Bank, Los Angeles, and Square Mile Capital Management, New York, provided $181.9 million for a multifamily development in White Plains, N.Y.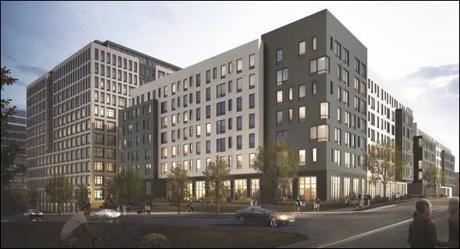 The project includes redeveloping a vacant office building into a 13-story Class A multifamily building and the ground-up construction of a seven-story multifamily building. Pacific Western originated a $134.5 million senior construction loan and Square Mile Capital made a $47.4 million preferred equity investment.
A venture led by Rose Assocs., New York, is developing the property.
Matt Drummond, Managing Director for Square Mile Capital, said the project could prove "transformational" for downtown White Plains, "providing attractive affordable and market-rate housing that will serve the needs of the community for years to come."
The redeveloped office tower, located at 440 Hamilton Avenue in White Plains, will become a 13-story, 255-unit multifamily building called The Lofts with 3,400 square feet of ground-floor retail. The new seven-story wood-frame building will provide an additional 213 multifamily units to the site. The property's unit mix will include 8 percent of apartments designated as affordable.