Commercial Real Estate Investment Rebounds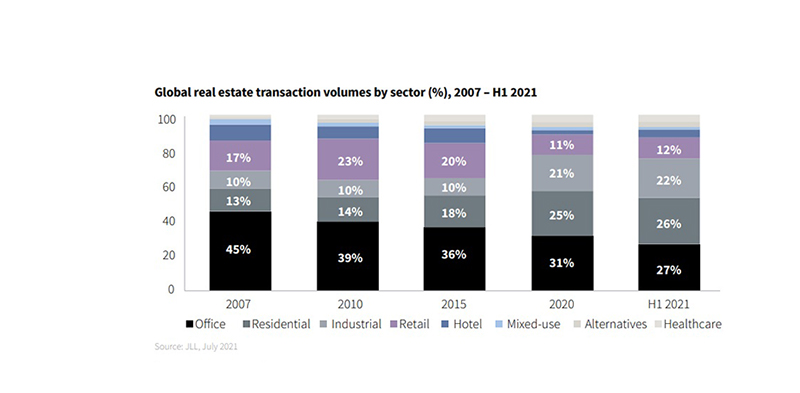 Commercial real estate investment has rebounded to pre-pandemic levels as vaccine rollouts and signs of economic recovery lure investors back into the market, analysts reported.
JLL, Chicago, reported nearly $250 billion invested in global real estate during the second quarter, more than double that invested a year ago. Global CRE investment activity now equals the same period in 2019.
The rebound reflects pent-up demand, robust pipelines and expanding access to vaccines in many of the world's largest commercial real estate markets, particularly in the U.S., Germany, the U.K. and China, said Sean Coghlan, Global Director of Capital Markets Research and Strategy with JLL.
"Rather than structural issues in financial markets, the economic downturn has been due to public health, and that's meant liquidity can rebuild quickly," Coghlan said. "With ample dry powder in the market, there's a desire among investors to expand and diversify portfolios."
Through the first half of 2021, cross-border investment of $106 billion was 29 percent of total volumes, the lowest share since 2014, according to the JLL Global Real Estate Perspective report.
But overall confidence in real estate as an asset class is pushing investors further out on the risk spectrum, a pre-pandemic trend that is reemerging. Among investors, competition is increasing.
"There are more prospective buyers than on-market opportunities, creating more intense bidding processes," Coghlan said. "Greater competition and the deep pools of capital targeting real estate are combining to drive up pricing – while at the same time bringing what have been lagging areas of the market back into focus."
CBRE, Dallas, reported U.S. investment volume rebounded strongly in the second quarter to $130.9 billion, the third-highest second-quarter volume on record after 2019 and 2007. Volume was up nearly 170 percent from the pandemic-era trough in second-quarter 2020 after four consecutive quarters of year-over-year decline.
"Volume increased significantly across all sectors," CBRE said. "In percentage terms, growth was strongest in the hotel sector, where price discounts and M&A activity boosted investment."
Private investors remained the most active investors, but their market share fell by 3.6 percentage points from a year ago as institutional and public investors increased their activity, CBRE reported.
Cap rates for U.S. real estate decreased year-over-year for nearly all sectors, with industrial seeing the largest decline, falling 19 basis points. Office, hotel and multifamily cap rates declined by between 6 and 9 basis points, while retail cap rates rose by 15 basis points, CBRE said, noting these changes may be skewed by the relatively low level of transaction volume in second-quarter 2020.
"The U.S. commercial real estate market had a robust second quarter," said Richard Barkham, Global Chief Economist for CBRE. "Market confidence was high, with investor inquiries and newly launched deals recovering to near 2019-levels. Going forward, while the delta variant and inflation concerns are seen as potential headwinds, we are yet to see this materialize in the investment market. Investors continue to be active and capital remains abundant for commercial real estate."