Personnel News from Transwestern, Urban Land Institute
Transwestern, Houston, named Doug Prickett Senior Managing Director of Investments & Analytics.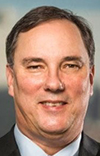 In his new role, Prickett will lead research efforts, develop advanced analytics and guide and support real estate investment strategy, market and asset selection, underwriting, portfolio management and workplace solutions for Transwestern and its clients.
Prickett's oversight encompasses all three companies – Transwestern Investment Group, Transwestern Real Estate Services and Transwestern Development Company – as each business further enhances its strategic use of proprietary data and sophisticated analysis to address real estate challenges and pursue opportunities that deliver value to investors, owners and users of commercial real estate.
Based in Dallas, Prickett has more than three decades of industry experience including senior roles at Lionstone Investments, REIX Corp. and Archon Group/Goldman Sachs.
Contreras Selected as Urban Land Institute/Martin Bucksbaum Senior Visiting Fellow
Christina Contreras, principal and founder of Living Ecology Studio in Denver was selected as the Urban Land Institute (ULI)/Martin Bucksbaum Senior Visiting Fellow for Retail.
During her one-year fellowship, Contreras will explore how privately owned and managed 'third places' can better contribute to individual and community health and well-being and will develop a "pattern book" for designers and developers to create welcoming and thriving privately owned 'third places.'
Coined by sociologist Ray Oldenburg, 'third place' refers to areas where people spend time between home ('first place') and work ('second place'). Examples of third places include churches, cafes, clubs, libraries and parks. While best practices for public third places such as parks are well established, private third spaces are less studied.
The fellowship is funded by the family of retail developer Martin Bucksbaum, who founded General Growth Cos., now known as GGC Inc.
As Senior Visiting Fellow, Contreras will study both indoor and outdoor environments, with particular emphasis in intersections between these spaces and mental and social well-being, socio-economic mixing and community and social connection and cohesion.
Based on her research, Contreras will create a toolkit to identify patterns that professionals from all sectors and backgrounds can utilize for health-based design, planning, policies, programming and decision-making. Considerations will include physical design, policies, education practices, social interventions, financing tools and programming.