Dealmaker: Walker & Dunlop Arranges $67 Million Construction Loan

Walker & Dunlop, Bethesda, Md., structured $67.2 million in financing to construct Shoma Village Apartments, a Class A mixed-use property with 304 apartment units and 11,625 square feet of retail in Hialeah, Fla.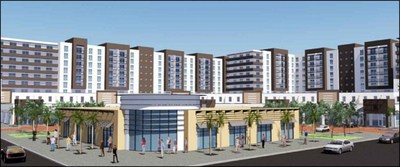 Located 15 miles northwest of Miami, Hialeah is experiencing a significant uptick in real estate investment. Previously known as an industrial hub, the city has attracted interest from multifamily developers and investors due to the relatively low cost of land and access to nearby employment centers.
Led by Keith Melton, David Strange, Livingston Hessam and Jeremy Pino, Walker & Dunlop arranged the loan through HUD's 221(d)(4) new construction program, which includes both construction and permanent financing in a single loan. The team secured a two-year construction term followed by a 40-year, fully amortizing fixed-rate loan. The financing also included a declining prepayment schedule for the initial ten years after construction and is open to prepayment at par for the remaining 30 years.
"The residential urbanization in cities like Hialeah is something we are seeing throughout Florida, and is very similar to two HUD 221(d)(4) loans we recently provided: the Highline Apartments in Downtown Melbourne, and Mirrorton Apartments in downtown Lakeland," said Pino. "These infill projects provide the communities Class A apartments next to walkable restaurants, shopping, and other amenities that are vital for these cities to thrive."
Melton noted HUD approved Shoma Village just before the economic standstill caused by COVID-19. "Despite limited access to the local municipalities, remote working and the general uncertainty caused by the pandemic, we were pleased to have closed this transaction despite several unanticipated disruptions," he said.
One of the largest Spanish-speaking communities in the country, 96.3 percent of Hialeah residents reported speaking Spanish at home in 2016. The city also has the highest percentage of Cuban and Cuban American residents of any city in the United States, at 73 percent of the population.