CREF CFOs Discuss The New Normal, What's Next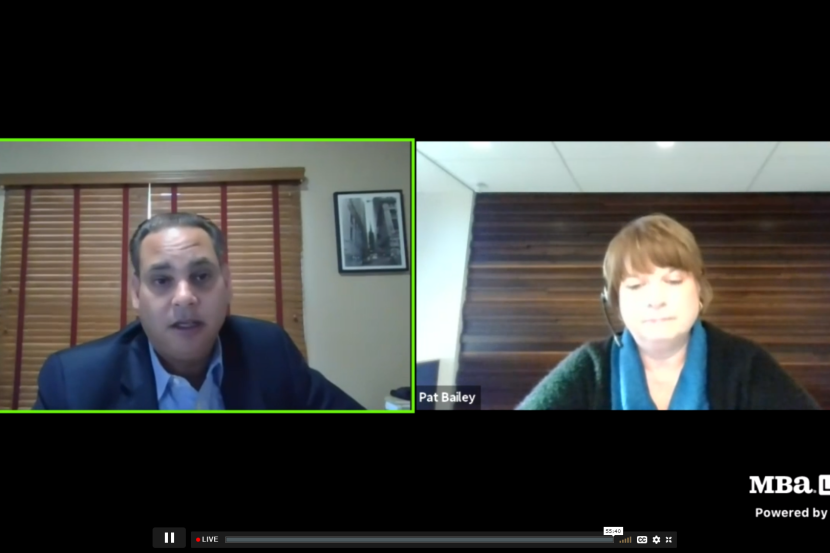 (l-r) Edwin Farah, Patricia Bailey
Commercial real estate chief financial officers have had to move quickly to respond to the pandemic and position their firms for whatever might come next.
"If you had asked me as 2020 began what my top issues would be this year, I would have said people, communication and liquidity," said Edwin Farah, Chief Financial Officer with PGIM Real Estate and Prudential Private Capital, Madison, N.J. He spoke at the Mortgage Bankers Association's MBA Live Accounting and Financial Management 2020 conference. "Those were my top three concerns. Now, the top issue is how do we keep the lines of communication open."
Patricia Bailey, Chief Financial Officer for Real Estate with Principal Real Estate Investors, Des Moines, Iowa, agreed, noting much of a CFO's job is to ensure all relevant info is being disseminated to everyone who needs it. "We are not in our normal environment today," she said. "People are working hard, trying to get the job done, and they don't always pause to think about who else they should loop in."
People are also working in less than the most efficient conditions, Bailey said. "Many do not have dedicated offices in their houses; some are working at their kitchen tables. Initially they lacked the multiple screens they might have been used to, and perhaps their home internet is not as fast or reliable as they had in the office. There are issues around unique situations people might have. Maybe their kids have been in and out of school so they are sometimes acting as part-time teachers as well as employees."
Other people face health issues, either their own or their spouse's, Bailey noted. "There is also the mental art of spending tons of time home with families, which can cause stress, or spending a lot of time by themselves, which has its own stress factors," she said.
Farah said people have had to learn to balance their professional and personal lives because of the pandemic. "Everyone should understand that we are all in this together and try to be empathetic," he said. "We really need to help each other and lift each other up during these uneasy times."
So far, the new normal is working, Farah said. "I think people are actually more motivated than before the pandemic if anything," he said. "I'm not sure we would want to do this for two years or more, but so far everyone has been super-focused. At Prudential we do regular employee surveys and we're getting great scores."
But long-term sustainability and developing future leaders remain a question, Farah said. "My fears are, first, how sustainable is this in the long run?," he said. "And second, how do we train the next generation remotely? I'm not sure how well that can be done remotely. How do we bring in new talent and teach them in a remote environment? For me, I always learn best by doing something hands-on. I think we can make it work remotely, but it's going to be a challenge."
To learn more and get engaged with MBA's Commercial/Multifamily Financial Officers' Peer Business Roundtable, email CREF Research at CREFresearch@mba.org.