Sustainability, Infrastructure Top of Mind for Data Center Operators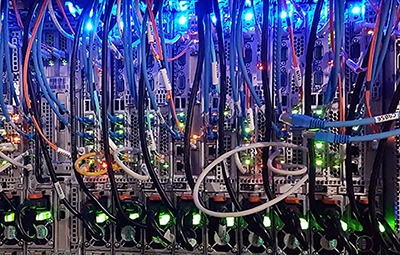 (A data center in Council Bluffs, Iowa. Photo courtesy of CyrusOne.)
Sustainability and infrastructure remain the biggest concerns for data center operators, said JLL, Chicago.
JLL recently brought large data center firms together in Park City, Utah to discuss the main issues facing the sector. Participants discussed carbon accounting, sustainability, infrastructure challenges in emerging markets and investment appetite.
"Sustainability is at the forefront of industry challenges," said Brian Kortendick, JLL Executive Director of Global Data Center Strategy. "We all, together, need a concentrated effort to develop new concepts, practices and innovative approaches to achieve sustainability goals."
Like other commercial real estate assets, data centers have a high initial carbon output. But data centers' ongoing operational carbon output is higher than other property types because they consume so much electricity, so data center owners need to invest in sustainable ways of doing business, JLL said. "Carbon accounting, or greenhouse gas accounting, is how organizations quantify their greenhouse gas emissions, and carbon tagging–which summarizes the greenhouse gas data–will be an essential part of carbon accounting moving forward," the report said. "We recommend that all organizations prepare for this new process."
Sustainability is fast becoming a primary driver for data center site selection, design, build and operations, JLL said in its Data Center Outlook. It noted 96% of its clients have defined sustainability goals but said only 19% have publicly committed and funded execution plans.
"Whether self-regulated through something like the iMasons Climate Accord or more strictly regulated through the SEC in the U.S. and the Corporate Sustainability Reporting Directive in the EU, the industry will soon have much more robust need for sustainability assessment, accounting, reporting and monitoring," said Sean Farney, JLL Executive Director for Data Center Strategy and Innovation.
Every operational element within the data center space represents a sustainability opportunity, JLL said. Companies should therefore assess their entire mechanical and electrical plant and structure their asset replacements and investments toward achieving sustainability goals.
"The tradeoff between investments in sustainable objectives and revenue-generating assets for companies will always be a challenge," added Daniel Kirschner, JLL Head of Growth and Business Development. "The key is strong governance with top-down support and initiatives that take advantage of both increasing reliability and reducing carbon output concurrently. Both objectives can go hand in hand with a proactive, and predictive, maintenance and replacement approach."
Sustainable financing is gaining traction and can have a 200-basis point impact on financing, the report said. "Interest rates have not yet impacted expected cap rate returns for data centers, primarily because the financing decision is often separated from the long-term revenue play for a data center operator," JLL said.
Carl Beardsley, Senior Director with JLL Capital Markets, said investor appetite for data centers far exceeds the volume of opportunities. "The volatile debt markets have impacted commercial real estate valuations across all asset classes, but data centers are viewed as resilient, high-yielding investments and will continue to remain in high demand," he said.